ACNE SCARS & DARK SPOTS BEWARE
Product below may remove you from skin!
What is the Herbwood Mask
Our Herbwood Mask is a clay mask made with high quality herbs, powders, clays, and essential oils to help promote clear, even skin tones! It's made by infusing those same herbs into purified water creating a "decoction", and adding powders and essential oils to that herbal infusion—thus creating a powerful mask!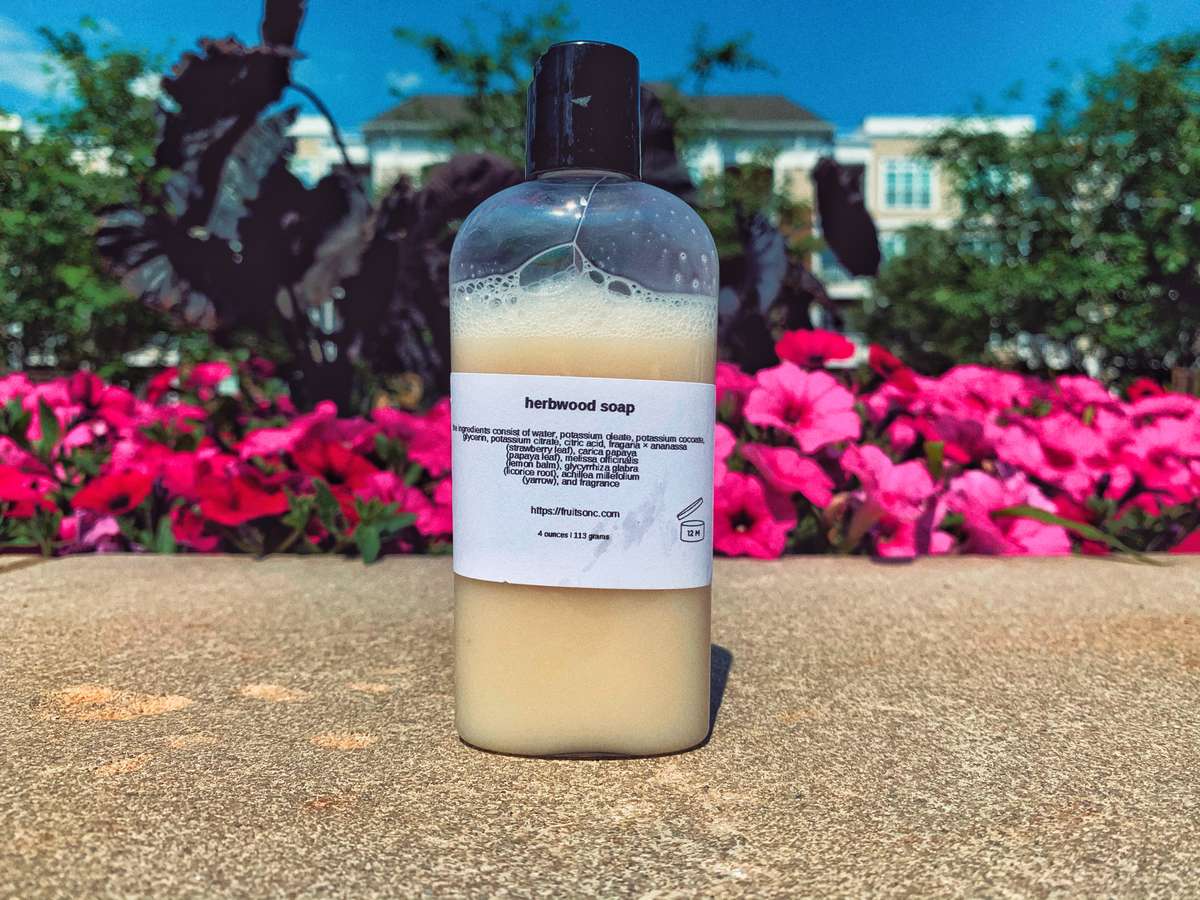 What is the Herbwood Mask made with?
The Herbwood Mask is made with: The Herbwood Cream is made with: Purified Water, Kaolin Clay, Bentonite Clay, Groung Turmeric, Ashwagandha Powder, Lemon Peel Powder, Aloe Powder, Papaya Leaf, Strawberry Leaf, Lemon Balm, Yarrow Flower, Uva Ursi, Strawberry Leaf, Licorice Root, Rosemary Oil, Vegetable Glycerine, Cucumber Juice Extract, Xanthan Gum, Allantoin, Optiphen Plus, and Fragrance
What are the benefits of the Herbwood Mask
To use the Herbwood Mask:

Simply apply a dime sized amount to dried skin as you would any other mask! Afterwards, allow it to dry and either rinse it off with warm water or wash it off with any of our soaps for extra benefits! This product isn't medicated, so it can easily be added to your current skincare routines.

The benefits include:


Promoting the removal of acne scars due to the inclusion of Papaya Leaf, Ground Turmeric, and Uva Ursi
Hydrating and protecting against future breakouts due to the Cucumber Juice Extract and Allantoin
Providing relief to dark spots and hyperpigmented skin due to the inclusion of Licorice Root and Aloe Powder
Extracting blackheads and whiteheads & reduces excess oil due to Bentonite and Kaolin Clay
Naturally providing the skin with Vitamin C and a natural glow due to the inclusion of Lemon Balm, Ashwagandha Powder, and Strawberry Leaf
Combatting painful inflammation and healing scars due to the inclusion of Rosemary and Yarrow Leaf!
For Acne
Okay so I always had hormonal acne. Nothing ever worked until now, bless this shop!!! It's been helping me clear out my skin. I even started put it on my boyfriend and he has like really bad acne and deep scars but he loves that it's helping him too :) at the moment I'm purchasing more even I haven't ran out yet!
godsend
this stuff is magical!! i had some cystic acne and it helped the swelling go down and brought it up in a few days rather than weeks, it smells amazing, washes off pretty easily, and doesn't make my skin feel overly tight after i remove it. i also put some over some acne that swelled up after i scratched it on my shoulder and the swelling went away because of the herbwood mask🥰 thank you for this!!
Visible change
Smells absolutely beautiful! I can also see some light fading in my blemishes.
Obsessed
I've been using this for about a week now and my skin has cleared and lightened noticeably. Also, this is the best smelling mask I've ever used and I LOVE it.
When I first applied this it tingled a lot and my face felt a little sore but I let my face be for a couple of days and decided to try it again and since then it's been a match made in heaven!