What is the Flowerlight Soap
Our Flowerlight Soap is a body wash made with high quality herbs and essential oils to help promote clear and acne free skin! It's made by infusing those same herbs into Grapeseed Oil, which is then added into Castile Soap—thus creating a powerful acne-fighting soap!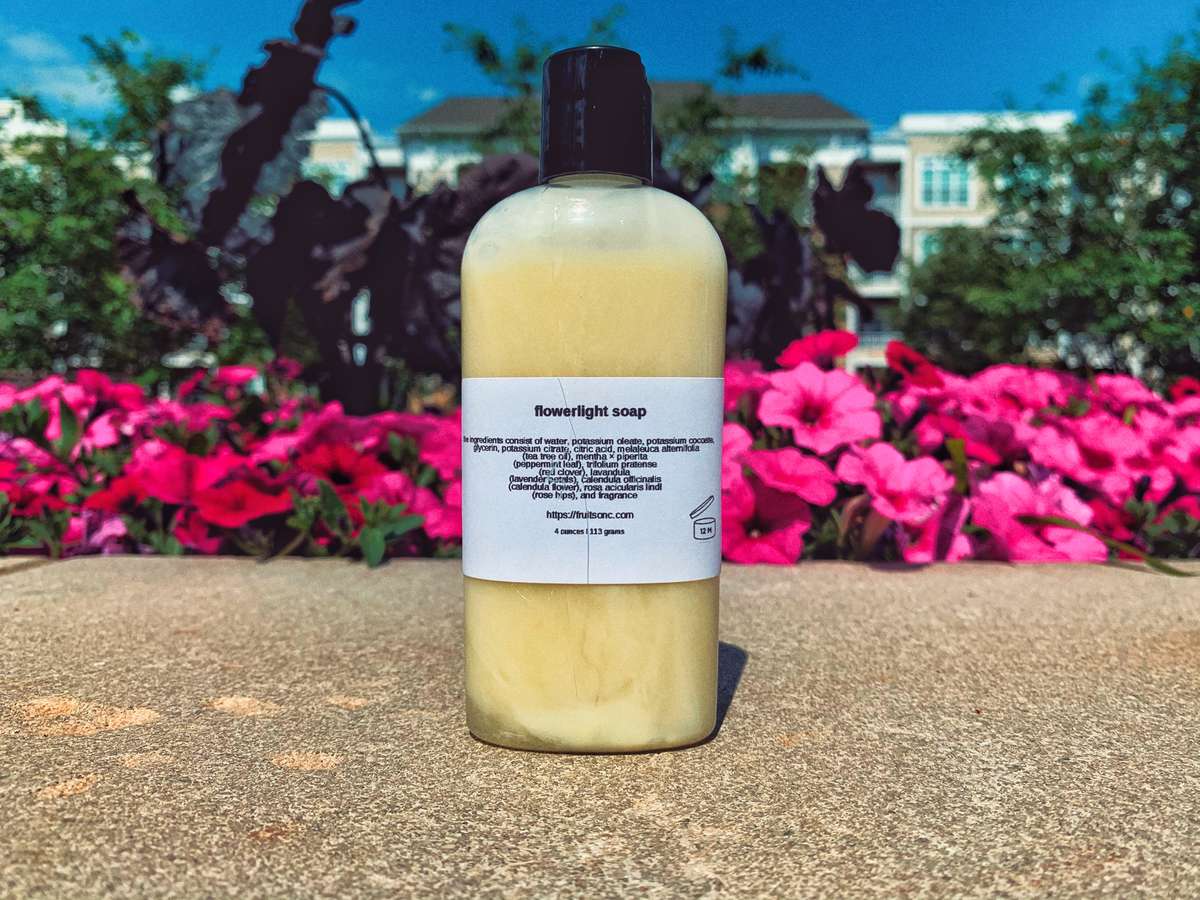 What is the Flowerlight Soap made with?
The Flowerlight Soap is made with: Castile Soap, Grapeseed Oil, Peppermint Leaf, Calendula Flower, Dried Rosehips, Lavender Petals, Red Clover, Dried Horsetail, and Fragrance
What are the benefits of the Flowerlight Soap
To use the Flowerlight Soap:

Simply apply a dime sized amount to damp skin as you would any other soap! This product isn't medicated, so it can easily be added to your current skincare routines.

The benefits include:


Promoting the removal of all common acne types (Fungal, Hormonal, and Cystic) due to the inclusion of Calendula and Horsetail
Providing relief to rosacea, psoriasis, and eczema due to the inclusion of Red Clover, Peppermint, and Dried Rosehips
Moisturizing the skin without drying it out due to Grapeseed Oil
Combatting painful inflammation and acne due to the inclusion of Lavender and Eucalyptus!
Love it !
This soap has improved my acne so much I love it. Cleared up my forehead like no other soap has, been using for a couple months now Highly recommend!
Works Fast
This product has helped my acne, especially the newly formed pimples on my forehead, go away so quickly. It is super gentle on my skin. I have eczema around my mouth and this has also helped with that. Super worth buying and incorporating in your daily routine. My skin is so much smoother with continued use.
Nice lather
This soap has a very nice lather to it. It also smells really good! I can tell a difference in my breakouts after using this soap. A lot less cystic acne after using this soap for 2 weeks! And whatever breakouts I do have clear up a lot faster! Love this product
Bye-Bye Acne
Since using this product I've noticed tremendous results in just a few weeks. I can finally wear bare skin without feeling uncomfortable or insecure. Im in love with this product. I use the entire collection with the mask and cream.
:))
The product is pretty good i've been using the flower light cream and soap and it's really brighten up my skin and haven't had any crazy breakouts yet