What is the Flowerlight Cream
Our Flowerlight Cream is a body lotion made with high quality herbs and essential oils to help promote clear and acne free skin! It's made by infusing those same herbs into purified water creating a "decoction", and adding waxes and essential oils to that herbal infusion—thus creating a powerful acne-fighting lotion!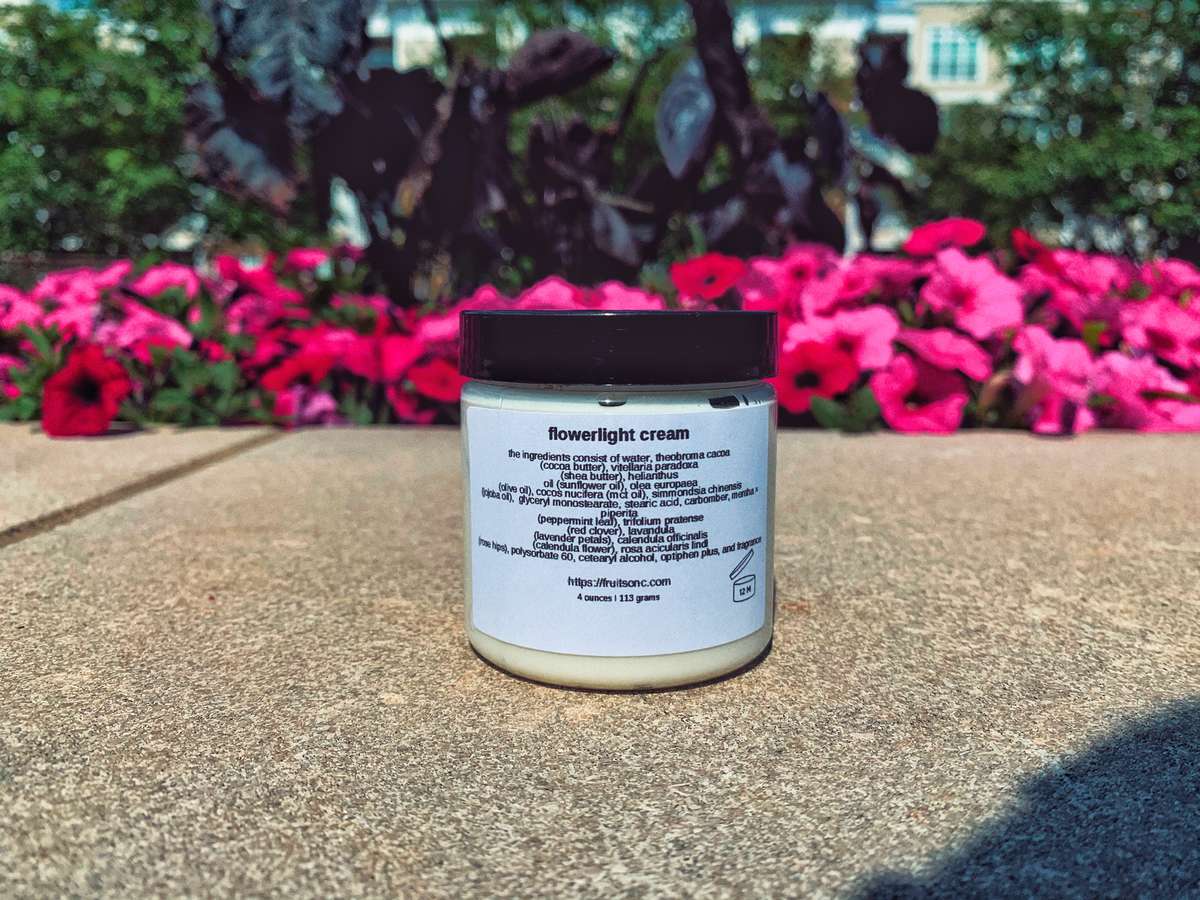 What is the Flowerlight Cream made with?
The Flowerlight Cream is made with: Purified Water, Fractionated Coconut Oil, High Oleic Sunflower Oil, Cocoa Butter, Peppermint Leaf, Dried Horsetail, Red Clover, Dried Rose Hips, Calendula Flower, Lavender Petals, Extra Virgin Olive Oil, Emulsifying Wax, Glyceryl Monostearate, Organic Shea Butter, Stearic Acid, Jojoba Oil, Cetyl Alcohol, Carbomer, Optiphen Plus, and Fragrance
.
What are the benefits of the Flowerlight Cream
To use the Flowerlight Cream:

Simply apply a dime sized amount to dried skin as you would any other lotion! This product isn't medicated, so it can easily be added to your current skincare routines.

The benefits include:


Promoting the removal of all common acne types (Fungal, Hormonal, and Cystic) due to the inclusion of Calendula and Horsetail
Providing relief to rosacea, psoriasis, and eczema due to the inclusion of Red Clover, Peppermint, and Dried Rosehips
Moisturizing the skin without promoting dryness (we know how other lotions try to trick you..)
Combatting painful inflammation and acne due to the inclusion of Lavender!
Amazing
I've only used this cream for 2 weeks and most of my acne has cleared and my scars are starting to fade. Despite being in a different country, the cream works really well on my skin and I would definitely buy it again!
I've been using fruits of nature products since February and in 1 week I could already see the difference my skin is doing way better now!!!
Only been using for 2 weeks
I have small breakouts here & there and this really helps even though it's fighting acne it doesn't dry your skin out
Best Cream
I purchased this cream with the herbwood soap, and my face has gotten so much better!!!! I love the smell of this cream and it's the perfect consistency. One of the best creams out there!
Flowerlight Cream (Acne Cream)
I really like this product and really can see a difference just in the few weeks I've been using it. I use it for the daytime since it's very moisturizing and use the Herbwood cream in the nighttime since it makes my face more dry.