LONG, STRONG LASHES AND BROWS
What is the Brow + Lash Serum?
The Brow + Lash Serum is a Jamaican Black Castor and Jojoba Oil blend infused with a Lavender, Hibiscus, Burdock Root, and Rosemary blend which stimulates hair growth!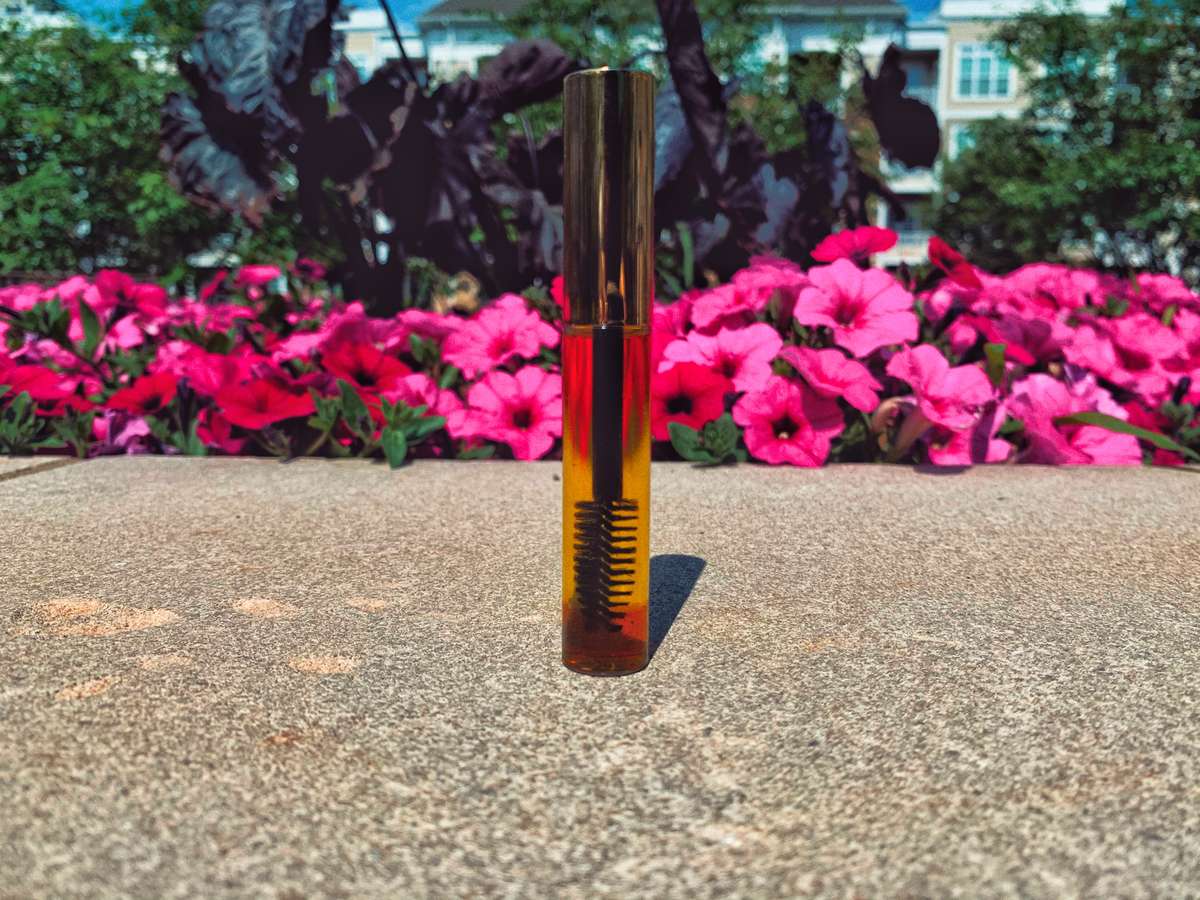 What is the Brow + Lash Serum made with?
The Brow + Lash Serum is made with with Jamaican Black Castor Oil, Jojoba Oil, Lavender Petals, Burdock Root, Dried Rosemary, and Hibiscus Petals
What are the benefits of the Brow + Lash Serum?
To use the Brow + Lash Serum:

Wipe off excess oil onto the bottle, look up to lift your lashes, pull the wand toward the tip of your lashes in a zig-zag motion. For eyebrows, leave excess oil on the wand and rub it into your eyebrows. Best when left on overnight.

The Benefits Inlcude:
Increasing blood flow, facilitating more rapid hair growth
Being rich in Vitamin C and Amino Acids due to the Hibiscus Flower
Thickens and strengthens strands due to the Jamaican Black Castor Oil
Being packed with Vitamins C, B, and E alongside Copper and Zinc due to the Jojoba Oil
I wasn't sure about how it'd work but after one or two days, I noticed my lashes were longer! I even see my eyebrows growing more too. I can definitely say I'll buy more of this soon lol
So far it's been 5 days of me using your product and I absolutely love it. The only thing I wish was the acne soap bottle was bigger.
Lash Serum
Hoooooly crap!! I've used the brow and lash serum for about two weeks now and my lashes are considerably fuller and longer. So much so that my boyfriend noticed over a low quality FaceTime call! 100% recommend and I'll be buying this again when I run out!!
It works!
I've only been using this serum for a few weeks and I already see a difference. I've always had shorter lashes but I can tell they're getting longer. My mascara also applies better since they're softer! My eyebrows grow faster than ever. Love this product.
!!
i've only been using this for a couple weeks, but even if it doesn't have a dramatic difference i'm going to keep using it :) it goes on much easier and less drippy/thick than the castor oil i was using before, and smells a lot better too. i am seeing some new hair growth on the bottom front of my brows that really struggle to grow and whether or not it's caused by the brow serum it's still there soooo