OCEAN IN A BOTTLE
Hydrated & Moisturized Skin Without the Hassle!
What is the Deep Sea Mask
Our Deep Sea Mask is a clay mask made with high quality herbs, extracts, and essential oils to help promote clear and acne free skin! It's made by infusing those same herbs into purified water creating a "decoction", and adding extract, clays, powders, and essential oils to that herbal infusion—creating a strong, hydrating mask!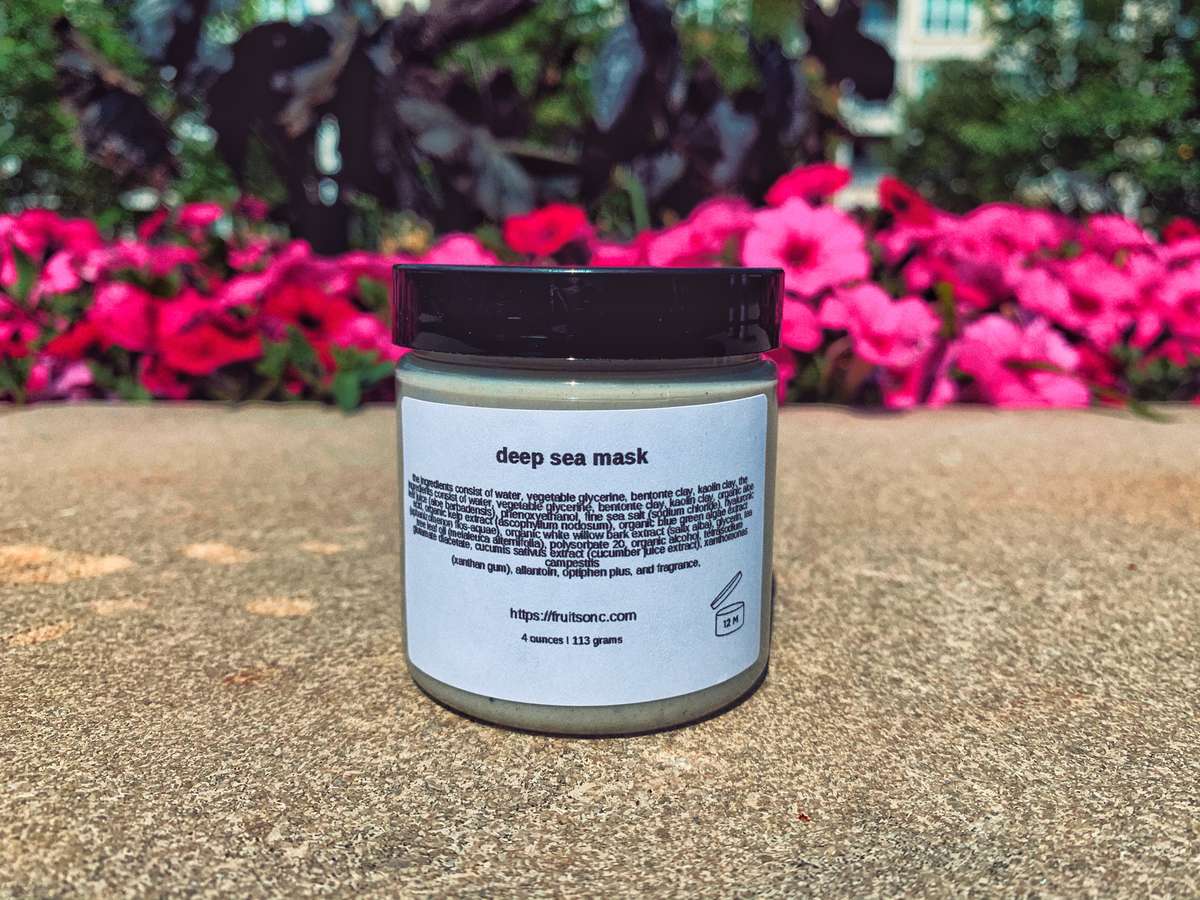 What is the Deep Sea Mask made with?
The Deep Sea Mask is made with Water, Kaolin Clay, Bentonite Clay, Organic Aloe Leaf Juice, Phenoxyethanol, Fine Sea Salt, Hyaluronic Acid, Organic Kelp Extract, Organic Blue Green Algae Extract, Organic White Willow Bark Extract, Glycerin, Tea Tree Leaf Oil, Polysorbate 20, Organic Alcohol, Tetrasodium Glutamate Diacetate, Allantoin, Xanthan Gum, Optiphen Plus, and Fragrance
What are the benefits of the Deep Sea Mask
To use the Deep Sea Mask:

Simply apply a dime sized amount to dried skin as you would any other mask! Afterwards, allow it to dry and either rinse it off with warm water or wash it off with any of our soaps for extra benefits! This product isn't medicated, so it can easily be added to your current skincare routines.

The benefits include:


Powerful moisture and hydration capabilities due to the inclusion of Hyaluronic Acid
Hydrating and protecting against future breakouts due to the Cucumber Juice Extract and Allantoin
Nourishing and soothing the skin due to the inclusion of Kelp and Blue Green Algae Extract
Combating acne and detoxifying the skin due to the inclusion of Sea Salt
Being packed with Vitamins and Minerals that clear, exfoliate, and detox the skin
SO refreshing , but Fishy smell
I used this mask last night for the first time and it left my skin feeling soft, supple and glowing! The only think that made the experience of using it not so fun, was the smell that the Kelp Powder gave off. Fruits of Nature is a natural brand, selling natural products so I expected that of course..but that smell did surprise me lol . Otherwise a great product for any skin type.