BLACK SOAP WITHOUT THE IRRITATION
The same cure-all without the dry and irritated skin!
What is the Activated Black Soap
Our Activated Black Soap is a body wash made with high quality herbs and essential oils to help promote clear skin! It's made by infusing those same herbs into Grapeseed Oil, which is then added into Castile Soap—thus creating a powerful and potent soap!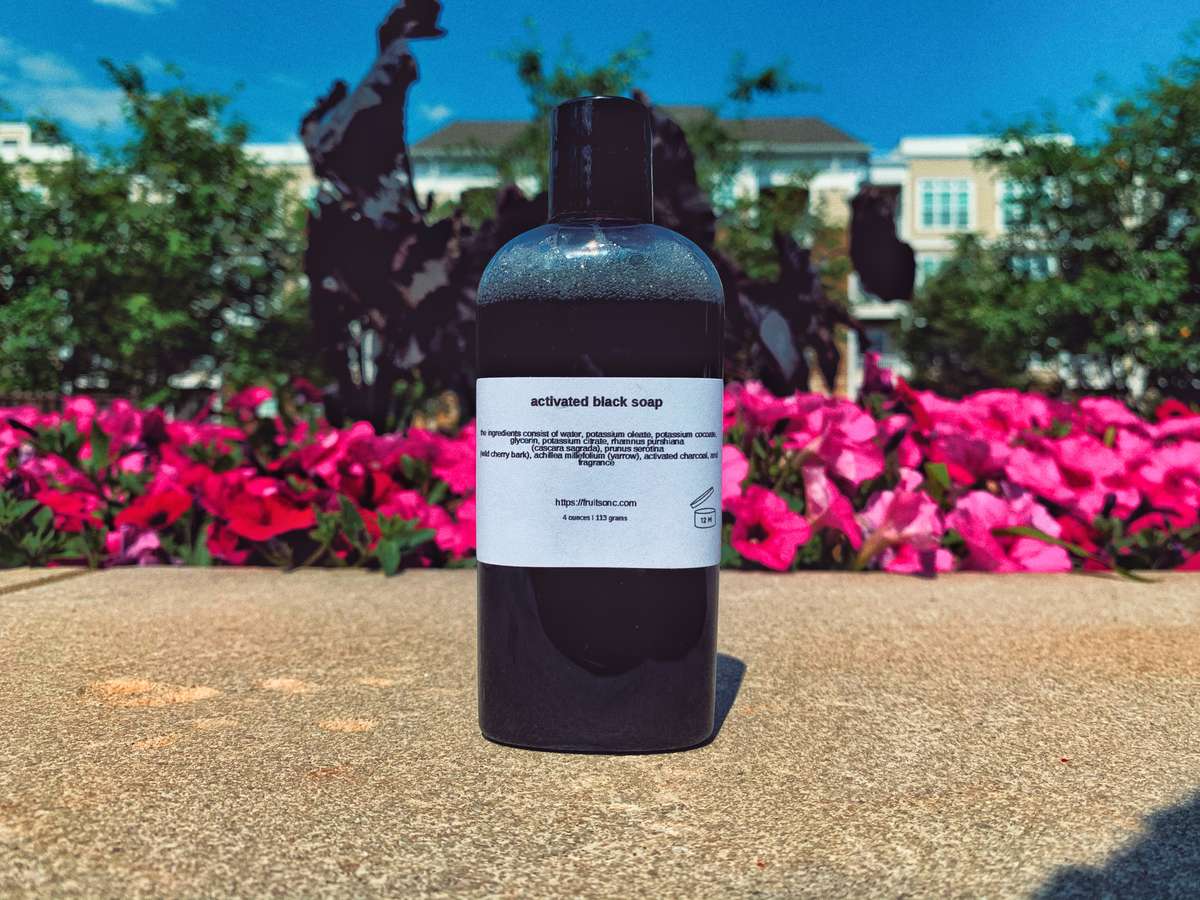 What is the Activated Black Soap made with?
The Activated Black Soap is made with Castile Soap, Cascara Sagrada Bark, Wild Cherry Bark, Yarrow, Activated Charcoal, and Fragrance
What are the benefits of the Activated Black Soap
To use the Activated Black Soap:

Simply apply a dime sized amount to damp skin as you would any other soap! This product isn't medicated, so it can easily be added to your current skincare routines.

The benefits include:


Promoting the removal of all common acne types (Fungal, Hormonal, and Cystic) due to the inclusion of Yarrow and Cascara Sagrada
Providing relief to rosacea, psoriasis, and eczema due to the inclusion of Wild Cherry Bark
Unclogging pores, exfoliating skin, removing impurities from the skin, and providing the skin with antioxidants due to Activated Charcoal
Combating painful inflammation and acne alongside acne scars due to the inclusion of Yarrow
Love it
It has been helping my hormonal and cystic acne start to clear up. I'm amazed actually. Thank you
Only been using it a week
So I bought these products about 3 weeks ago but they just got to me a week ago so I have yet to form a full opinion on everything yet. However so far I am a fan of most of the stuff. My only complaint is that the activated black soap is soooo liquidy. By that I mean when I pour some into my hand I feel like half of it stays there long enough for me to put it on my face and the rest is quick to run down my hands and arms, which is kind of annoying.
Soooo great! Will definitely continue using.
When I first ordered from Fruits of Nature, I was dealing with dry patchy skin and hormonal and/or cystic breakouts more than ever before from being on lock down due to the pandemic. Even though everything got worse before i saw improvement, I could feel the activated black soap working from day one. This soap reduced the tenderness of these breakouts overnight and flattened them after a couple of days. Now only ten days later my breakouts are completely gone. My skin is getting more even, and dark spots have been reduced with the help of other products.